La. Guardsmen improve skills during annual training
By Spc. Garrett L. Dipuma, Louisiana National Guard Public Affairs Office
NEW ORLEANS – The Louisiana National Guard's Headquarters and Headquarters Company, 225th Engineer Brigade, headquartered in Pineville, and the 528th Engineer Battalion, 225th Eng. Bde., headquartered in Monroe, conducted two weeks of annual training (AT) throughout the state, June 4-18.
During AT, Guardsmen trained on Army warrior tasks and on their specific military occupational specialty within the Guard. The engineers used the time to improve roadways, levees and drainage throughout Louisiana.
This training puts Guardsmen in seats of heavy equipment that the engineers use during state emergencies such as bulldozers, excavators, graders and compacters.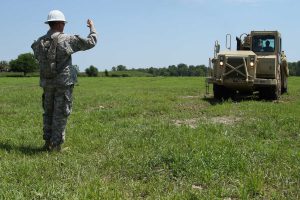 "There is no training more realistic for the engineers than the construction projects we engage in during AT," said
Lt. Col. Michael DeSelle, commander of the 528th Engineer Battalion. "During this two-week period, Soldiers are engaged in horizontal and vertical construction missions which help hone the skills that are required to successfully complete the missions during state emergencies and federal deployments."
At Camp Minden, the 225th's Headquarters and Headquarters Command and the 528th Engineer Battalion conducted a
field training exercise where Guardsmen trained on their mission essential task lists (METL). This included a three-day assessment of HHC's tactical operations command, where First Army evaluated HHC's combined arms training strategies.
In Minden, the 921st Engineer Company cleared a pad for Fire District #7 to install a training tower. On Camp Minden, the 1023rd framed walls, door and windows and installed dry wall for the new Internet café on post for Soldiers.
At Angola Louisiana State Penitentiary, the 921st began preparations for follow-on rotations of engineers to repair sections of levees and roads along the Mississippi River that washed away during the last several floods.
At Feliciana Airpark in West Feliciana, soldiers of the 921st leveled fields surrounding an airstrip so that the airfield would meet Federal Aviation Administration regulations.
In Roseland, the 832nd Engineer Utilities Detachment, a reorganized unit in the LANG, worked on drainage culverts that were damaged by the flooding in March.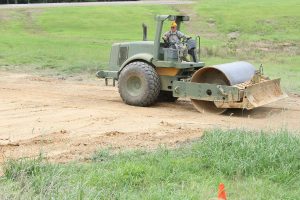 "There's no way you can teach this in the classroom," said Sgt. 1st Class Charles Mires, the readiness non-commissioned officer of the 832nd on the importance of training in the field. "There's no experience like hands on experience."
This type of training prepares the Guard to have boots on the ground as soon as they are needed. It also gives Guardsmen the opportunity to learn skills that are applicable in the civilian world. Pvt. Desiree Cook, a resident of New Orleans originally from Pennsylvania and a carpenter in the 1083rd, used her skills that she learned in the Guard to get a carpentry job in New Orleans in her civilian life.
"Before this (the Guard), I was in customer service and I never got my hands dirty," said Cook. "I'm learning about all different grades of wood … How to use them, how to cut them, how to put them together as a cutting board and how to put them together as a house. I've never experienced this before … using my hands, I've always wanted to do that."