La. Guardsmen receive technical training valued over $2,000
By Sgt. Garrett L. Dipuma, Louisiana National Guard Public Affairs Office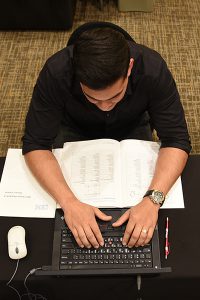 NEW ORLEANS – The Louisiana National Guard's Office of Family Programs, through its Pelican Employment Network, hosted a week-long training and certification program valued at over $2,000 per person in partnership with IBM i2 Analyst's Notebook software and Corporate America Supports You in Baton Rouge, Nov. 13-17.
At the end of the training, the Soldiers take a test to receive certification in the use of IBM software which is widely used by law enforcement, cybersecurity, and national security agencies. Commercial banking and insurance companies also use this software to investigate fraud or other criminal activity.
The training had 12 Louisiana Guardsmen and two Navy veterans in attendance.
"Cyber security skills are in big demand. There are a lot of job openings, and there will be more and more," said Sandy Dochen, IBM's manager of corporate citizenship in Texas, Louisiana and Arkansas. "These folks [the veterans taking the course] will be marketable because they have a top of the line, current knowledge of this piece of software."
IBM i2 Analyst's Notebook is a visual intelligence analysis environment that can optimize the value of massive amounts of information collected by government agencies and businesses. It delivers timely intelligence to help identify, predict, prevent and disrupt criminal, terrorist and fraudulent activities.
"It ties into my everyday job in cyber security," said Spc. Kayla Lagarde, a Guardsman with 1st Assault Helicopter Battalion, 244th Aviation Regiment in Hammond. "It [the i2 training] helps me out to have a skill set that most people don't know."
After the Soldiers complete courses like this, PEN uses their extended network of business partners to align certified Guardsmen and other veterans with potential employment.
"I look for the analytical skills that are gained through this certification [when hiring people]," said Clay Rives, East Baton Rouge Parish Mayor's Office of Homeland Security and Emergency Preparedness director. "Cyber security is something that we deal with every day, and having different cyber certifications is something that will lead to a lot of benefits down the road."
1st Sgt. Johnny Hagan, the LANG's employment coordinator, said that he has worked with several companies besides IBM to get G.I. Bill accreditation for training programs so that Soldiers can use benefits that they have earned through their service to train for successful careers. He said that he also works with companies like IBM and non-profits like CASY to fund training for Guardsmen that can turn into careers.
"We understand that the transferring military skills to the civilian world is not easy, and that Soldiers have missed opportunities because they didn't know how to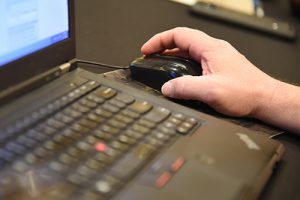 translate their military experience into civilian terms." said Hagan. "We know a lot of things aren't free, and the cost for this class is between $2,000 and $2,500 per person. Not many people have that certification."
Launched by IBM and CASY, the Veteran Employment Accelerator program helps local veterans translate their military experience into high-skilled jobs. Returning service members have access to hands-on training, certification and job placement assistance in the fast-growing tech sector.
Guardsmen who want assistance from PEN can find information at www.geauxguard.la.gov/join-us/lang-employment-network-office/.