La. National Guard Airmen honored at deployment ceremony
By Staff Sgt. Lerrin Trufant, 159th Fighter Wing Public Affairs Office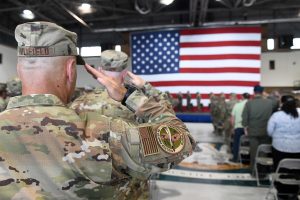 NEW ORLEANS – The Louisiana Air National Guard honored approximately 280 deploying Airmen from the 159th Fighter Wing for their service and sacrifice during a ceremony held at Naval Air Station Joint Reserve Base in Belle Chasse, May 19.
The 159th will join other Air National Guard units from across the country to support the U.S. Indo-Pacific Command Theater Security Package.  This TSP ensures readiness for any emergent fighter presence requirement and demonstrates the nation's ongoing commitment to stability and security in the region.
Brig. Gen. Pete Schneider, LANG assistant adjutant general – air, presided over the ceremony.
"These Airmen's destination is an active part of what's going on in the world today," said Schneider.  "The ability to take our fighters and our Airmen and forward deploy them, to show the significance of our ability to fly and continue the presence of air dominance in that part of the world, is very important."
Lt. Col. Benjamin Cook, commander of the 122nd Expeditionary Fighter Squadron, also addressed the Airmen and their families during the ceremony.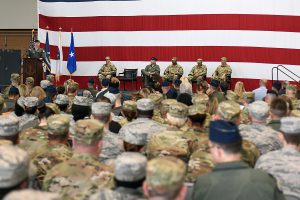 "I want to thank [the Airmen] for stepping up and volunteering," said Cook.  "We are answering the nations call.  I want them to be proud of what they do.  They are sacrificing for the country and the unit and it's not just them, but their families as well."
Members of the 159th welcomed guest speaker Rob Summers, a spokesperson for the Christopher and Dana Reeve Foundation, to share his journey following a hit-and-run accident that left him paralyzed from the chest down.
"Every time we are faced with adversity, whether it is as grim as a spinal cord injury or as small as an issue with hydraulics, we face it through perseverance," said Summers.  "We overcome by setting goals, working with a team, establishing a support system and working with families and others in the unit."
The Christopher and Dana Reeve Foundation provides resources and community connections to current service members and veterans affected by mobility impairments.
Deploying Airman Staff Sgt. Juan Dheming from the 159th Maintenance Squadron is familiar with how deployments are a family affair.  His son, Sgt. Leswin Dheming, will also be deploying soon with his Louisiana Army National Guard unit.  Both credit their success to the prayers and support from their wife and mother, Judith Dheming.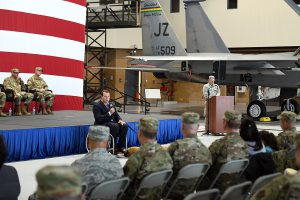 "I have learned the biggest form of support comes from family.  People think we have the hard job, but the fight's back home.  It's the love and communication that keeps our fight going," said Leswin.
The U.S. Indo-Pacific Command's TSPs serve as an integral show of force and these deployments affirm the U.S.' commitment to maintaining peace in the Western Pacific region.  To date, the Louisiana National Guard has supported more than 18,700 individual deployments since Sept. 11, 2001.