La. National Guard helps restore historic Grambling ponds, trails
By Sgt. Noshoba Davis, Louisiana National Guard Public Affairs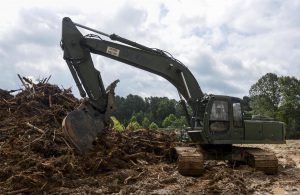 PINEVILLE, La. – The Louisiana National Guard's 921st Engineer Company, 528th Engineer Battalion cleared and grubbed 15 acres of land around Grambling State University's catfish research ponds near Ruston, March 30 – June 15.
The 15 engineer Soldiers cleared trees, undergrowth and debris from the area, and widened the entrance road. Grambling is planning on using the area for academics with a focus on environmental research, a safe place for recreational activities and a tailgating and RV parking area that can be used during campus events.
According to a release from Grambling State University, Marc Newman, GSU vice president of institutional advancement, said the project has been in the works for a few years, and the effort got underway recently when everything came together.
"It is more than just a tailgating space," said Newman. "This is an academic, community-related, and historical project. It impacts the community because families will once again be able to use the area. Educationally, it is a perfect area for environmental programs to research. Tailgating is an afterthought; the community and students are first."
Innovative Readiness Training projects like this one are used to build and strengthen partnerships between local communities and the Guard and provide training for Soldiers working on the projects.
"This project has allowed the Grambling community to see something [the ponds] that many of them never knew was there," said Sgt. 1st Class Bruce Greer with the 921st. "Many of the older generation thanked us on numerous occasions for what we were doing. Projects like this show the community that we care and are working to improve their areas."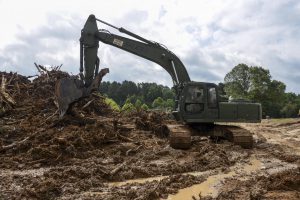 The Soldiers used the project to gain hands-on experience normally gained during their two-week annual training each year. The project allowed them to become more proficient on equipment they use during state and federal missions.
"The Soldiers become proficient by getting to operate the equipment and having qualified leaders train them," said Maj. Joshua Culp, executive officer for the 528th. "Our Soldiers are operating some extremely technical equipment and without projects like this, their learning curve could take longer.  Additionally, equipment operators are needed by many civilian corporations, and this training could help them with employment or starting a business."
During the clearing process, the engineers used equipment such as bulldozers, graders, hydraulic excavators, 10-ton dump trucks, skid steers with root buckets and a compactor. They also used scrapers and chainsaws.
"Projects like this allow our younger Soldiers to learn more about the capabilities of the equipment and themselves. Clearing projects are different due to the fact that you are removing trees that are still standing. This makes moving around tighter, and you have to really watch your 360," said Greer. "Learning to handle trees and loading trucks with debris is something that most Soldiers never learn."
The Guard is working on several IRT projects throughout the year that include repairing a breech in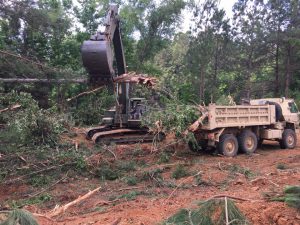 the levee at Louisiana State Penitentiary (Angola), adding additional sleeping quarters to the Caddo Parish Fire Station and a rugby field at Louisiana State University – Alexandria. Annual training projects include installing culverts in Farmerville, creating a practice field for the band at Louisiana College and adding a bathroom at the park in Cheneyville.
"These projects demonstrate to the communities our engineering skills outside of emergency operations," said Capt. Antonio Tims, commander of the 921st. "The Soldiers also get to see the impact and value their work has within their own communities."