La. National Guard "purples up" for LANG kids
By Spc. Garrett L. Dipuma, Louisiana National Guard Public Affairs Office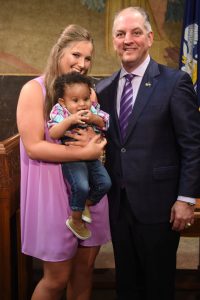 NEW ORLEANS – Louisiana Governor John Bel Edwards, surrounded by Louisiana National Guardsmen and LANG children, signed a proclamation recognizing April as month of the military child at the state capitol building in Baton Rouge, April 12.
Since 1986, the Army has celebrated April as month of the military child and there is a special effort to wear purple or "purple up" to recognize the significant contribution and unique challenges that military children face in their lives.
"Military children sacrifice a lot for their parents because their parents can be gone frequently due to deployments or training," said Maj. Gen. Glenn H. Curtis, the adjutant general of the LANG. "It's important to recognize their sacrifices."
Governor Edwards echoed this sentiment in his proclamation.
"Military children are the source of pride and honor that Americans have regarding their Soldiers' support to the nation," he said. "It is fitting to recognize our military children's contributions and celebrate their spirit."
Maj. Ebony Carter, director or the LANG Child and Youth Program (CYP), also spoke on the challenges that many military children overcome in their young lives.
"Military children are often overlooked as contributors to service member readiness and they are great examples of resilience and flexibility," said Carter. "Military children are often charged with tasks to bridge the gap or help out when their parent and, in some cases, parents are away. They are often most understanding when birthdays, ball games or recitals are missed because a loved one is deployed or training."
The CYP hosts many different camps and workshops throughout the year for LANG children, most notably their Youth Leadership Camp and Kids' Annual Training, both of which are held in June.