Deployed La. Air National Guardsmen participate in Frisian Flag exercise
By Senior Airman Cindy Au, 159th Fighter Wing Public Affairs Office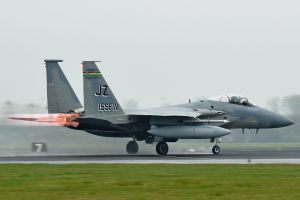 BELLE CHASSE, La. — Nearly 300 Airmen and 12 F15C Eagles from the Louisiana Air National Guard's 159th Fighter Wing that are deployed to Leeuwarden Air Base, Netherlands in their role as a Theater Security Package, recently participated in exercise Frisian Flag in support of Operation Atlantic Resolve.
The 159th Fighter Wing deployed to the United States European Command area of responsibility in March for a three month rotation.
Frisian Flag is an exercise led by the Royal Netherlands Air Force in Leeuwarden AB. Similar to Red Flag exercises hosted by the United States, Frisian Flag is a multinational training exercise that simulate realistic scenarios in a safe training environment. The purpose of Frisian Flag is to improve cooperation and capabilities between the multiple participating countries.
"We want to see what these other countries can do and how we can best integrate with them." said Lt. Col. Daniel Fischer, commander of the 122nd Expeditionary Fighter Squadron. "Getting to know each other now helps build those partnerships in a training environment in case we need them in the real world."
Brig. Gen. Pete Schneider, LANG's assistant adjutant general-Air, visited the deployed Airmen while they participated in the exercise.
"Our Airmen are rising to the occasion to strengthen the alliance with our NATO allies," said Schneider. "It's nice to have a place to showcase our Airmen's hard work among other countries."
Senior Airman Jacob Attuso of Baton Rouge and an aircraft engine mechanic with the 159th Maintenance Squadron on his first deployment, said he is pleased to be learning and working with the different countries that are part of the exercise.
"I like the opportunity to train with other countries. It's a once in a lifetime opportunity," Attuso said. "I like that we get to learn a lot here."