La. National Guard welcomes Bunkie unit home from Kuwait
By Spc. Cody Wolfgang Kellum, 241st Mobile Public Affairs Detachment
NEW ORLEANS –The Louisiana National Guard welcomed home members of the 1086th Transportation Company, 165th Combat Sustainment Support Battalion, 139th Regional Support Group at their armory in Bunkie, April 14.
The 1086th, which has detachments in Vidalia and Ville Platte, deployed more than 160 Soldiers to Kuwait in support of Operations Spartan Shield and Inherent Resolve.
"We were faced with challenges during the deployment, but with the leadership skills and experience of our senior and junior noncommissioned officers, combined with the untouchable dedication and strong work ethic of our lower enlisted Soldiers, all of those challenges became accomplishments," said Capt. Murphy Hall, commander of the 1086th.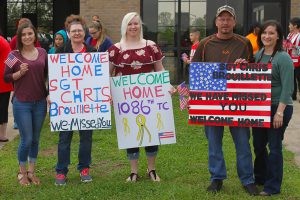 During their nine-month deployment, the 1086th provided logistic transportation support in theater operations. They successfully completed 697 logistical convoys traveling in excess of one million miles. The 1086th also transported more than 130,000 personnel throughout nine countries.
"It's more than rewarding," added Sgt. Jonathan Soto. "It makes me feel like we accomplished something, that we did something, and that we're appreciated for it. It makes the whole journey worth it."
The 1086th departed from Louisiana on May 13, 2017, and conducted mobilization training at Fort Hood, Texas, before deploying overseas.
They returned to Fort Hood for demobilization training for approximately one week before returning home to Louisiana.
"This was my first deployment. It was a great experience in Kuwait," said Sgt. Bobby Jenkins. "To come home and get this warm embrace, I'm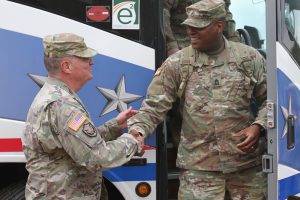 speechless."
The 1086th deployed in support of Operations Desert Storm in 1991, Iraqi Freedom in 2003 and Enduring Freedom in 2011. They have also participated in the state response and recovery operations for Hurricanes Katrina, Rita, Gustav, Ike, Isaac, the Deepwater Horizon Oil Spill and flood operations in 2016.
Please visit http://geauxguard.com/ for the latest Louisiana National Guard releases, photos and videos. Like us on Facebook, follow us on Twitter, Flickr, and YouTube!