La. National Guard's 'Tigator' Battalion welcomes new commander
By Sgt. Noshoba Davis, 256th Infantry Brigade Combat Team Public Affairs Representative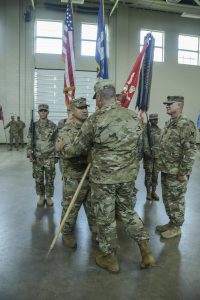 BATON ROUGE, La. –The Louisiana National Guard's 769th Brigade Engineer Battalion, 256th Infantry Brigade Combat Team welcomed Maj. William Saint as their new commander during an official change of command ceremony at the Armed Forces Reserve Center in Baton Rouge, Aug. 20.
Saint, a resident of Carville, assumed command from Lt. Col. Rob Billings, a resident of Baton Rouge, who has served as commander since August 2015. Billings is currently the deputy future plans officer for the LANG.
"As I look out on this team for the last time as your commander, I can say that I am humbled to be in your presence and honored to have had the opportunity to be your leader," said Billings. "Tigators you've done a lot and there's still a lot left to do. Maj. Saint is the kind of aspiring leader who will serve this team well and continue the tradition of quiet professionalism."
Some of Billings' awards and decorations include the Meritorious Service Medal with one oak leaf cluster, Army Commendation Medal with two oak leaf clusters, Army Achievement Medal with three oak leaf clusters, the Army Reserve Component Achievement Medal with one silver and one bronze oak leaf cluster and the Army Reserve Components Overseas Training Ribbon.
Maj. Gen. Glenn H. Curtis, the adjutant general of the LANG, stood before the battalion and praised both Saint and Billings for being great examples of what it means to be a leader and wished them well on their new endeavors.
"Rob, you're a great guy who has done a phenomenal job leading these Soldiers. I appreciate all the work you've done and what you're doing now," said Curtis. "Will, congratulations on your battalion command. There are very few officers that get the privilege to command a battalion, but you've earned the right to do that."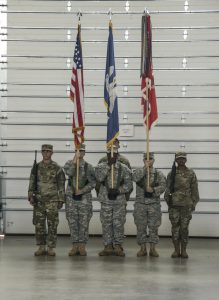 Saint, who began his career with the 769th, received his commission through the Officer Candidate School in Louisiana in 2001. He holds a Bachelor of Science in Liberal Arts from Excelsior College in Albany, New York. He currently works full-time as the commander and administrative officer for the 769th.
Before taking command of the 769th, Saint commanded the 62nd Civil Support Team, the LANG's only fully active duty unit.
"Lt. Col. Billings, thank you for your service and leadership of this battalion over the years. I never imagined that what I started over 21 years ago when I walked into a recruiting office at the 769th Engineer Battalion would lead me to the front of this formation," said Saint. "I'm truly grateful and humbled by this opportunity. I vow to lead to the best of my ability, forever focused on the mission and readiness of the battalion. This is without a doubt the greatest professional honor of my life."
Some of Saint's awards and decorations include the Bronze Star with one oak leaf cluster, the Purple Heart, Meritorious Service Medal, Army Commendation Medal with three oak leaf clusters, Army Achievement Medal with two oak leaf clusters, Army Reserve component Achievement Medal with three oak leaf clusters, the Combat Action Badge, the Excellence in Competition – Pistol Badge and the Governor's Twenty Tab.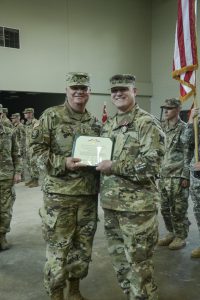 Headquartered in Baton Rouge, the 769th consists of Headquarters and Headquarters Company in Baton Rouge, A Company in New Roads, B Company in Napoleonville, C Company and D Company in Lafayette, and E Company in Baton Rouge.
The 769th can trace its history back to 1770. The battalion was activated for WWI, WWII and the Vietnam War. The 769th mobilized in support of Operation Enduring Freedom in 2002 and Operation Iraqi Freedom in 2007. The 769th was activated in response to Hurricane Katrina in 2005 and the major floods throughout Louisiana in 2016.