Louisiana Guard intelligence unit welcomes new commander
By Sgt. Noshoba Davis, Louisiana National Guard Public Affairs Office
PINEVILLE, La. – The Louisiana National Guard's 415th Military Intelligence Battalion welcomed Lt. Col. Thelma R. Piper as their new commander during an official change of command ceremony at Camp Beauregard in Pineville, Oct. 14.
Piper replaced Lt. Col. Bobby J. Lee Jr., who has served as the commander since April 2016. Lee will now serve as the deputy commander of the 139th Regional Support Group.
Piper began her military career in 2000 when she enlisted into the LANG while attending Reserve Officer Training Center at Tulane University. She received a direct commission after completing ROTC as a second lieutenant in 2002.
"My heart is over joyed to return to the unit from which I began this career as a young cadet with truly no idea of where this adventure would take me," said Piper. "General Curtis, sir, thank you for placing trust and confidence in my abilities to lead this great battalion."
Lt. Col. Lee, I do not take lightly your accomplishments and success … I personally thank you for being a great leader who exemplifies the Army values and lives the motto 'Always Out Front.'"
Piper currently resides in New Orleans. She holds a Bachelor's of Arts in Sociology from Xavier University in New Orleans and a Master of Arts in Criminology from the University of Houston – Clear Lake in Houston, Texas. She is currently working on her Doctorate of Philosophy in Public Policy and Administration with a double concentration in Criminal Justice and Terrorism Mediation and Peace.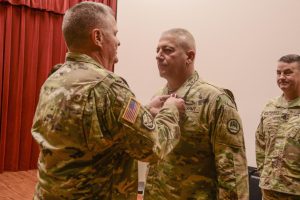 Lee began his military career in the United States Marine Corps in 1986. He left the Marines in July 1994 and joined the LANG, Aug. 1994. He received his commission after completing the LANG's Officer Candidate School in 1996.
Maj. Gen. Glenn H. Curtis, adjutant general of the LANG, spoke highly of Lee's time as commander.
"You've always been one of the teammates that we knew we could depend on, and you've done a great job at the 415th," said Curtis. "As you move on to be the deputy commander of the 139th I know you will do great and wonderful things there."
Lee holds an Associate of Liberal Arts and a Bachelor of General Studies with a minor in History and English from the University of Louisiana at Lafayette. He is currently working on a Masters for Human Resource Development and Leadership at Louisiana State University. He currently resides in Lafayette with his wife, Shelly. They have four children and a granddaughter.
"Seems like just yesterday General Curtis instructed me to take care of our most important commodity: our Soldiers," said Lee. "It was my goal to take a good unit and make it better, but what actually happened was the Soldiers of the 415th made me a better professional, Soldier, leader and person."
Organized in 1989, the 415th provides intelligence support to tactical, operational and strategic-level commanders in order to defeat adversaries, promote regional stability, support allies and protect the interests of the United States. The battalion received the Meritorious Unit Citation for Operation Iraqi Freedom in 2007 and in 2012 for Operation Enduring Freedom. The 415th was activated for Tropical Storm Karen in 2013 and the August floods in 2016.