Louisiana National Guard aviators deploy to Kuwait
By Sgt. Garrett L. Dipuma, Louisiana National Guard Public Affairs Office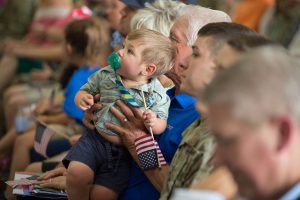 NEW ORLEANS – More than 140 Soldiers with the Louisiana National Guard's 1st Assault Helicopter Battalion, 244th Aviation Regiment, bid farewell to family and friends during a deployment ceremony at the Army Aviation Support Facility #1 in Hammond, Oct. 6.
The Hammond-based unit, known as Task Force Voodoo, left for a nine-month deployment to Kuwait and other locations in the region to provide aerial medical evacuation and equipment and personnel transport in support of Operations Spartan Shield and Inherent Resolve.
Maj. Gen. Glenn H. Curtis, adjutant general of the LANG, addressed Soldiers and their families during the ceremony.
"These Soldiers are professionals; they know what they're doing," said Curtis. "You are the defenders of our freedom. There are a million other things you could be doing today other than packing your bags and leaving your lives and families behind … but you are willingly doing that."
Task Force Voodoo deployed to Iraq in 2003 and 2009 in support of Operation Iraqi Freedom, where they provided air assault operations in direct support to special operations and coalition forces. Guardsmen of the 244th were also activated state-side for emergencies including Hurricanes Katrina, Rita, Gustav, Ike and Isaac, the Deepwater Horizon Oil Spill in 2010 and the major floods of 2016.
The 244th also sent three UH-60 Blackhawks to Haiti in support of Task Force Kou't Men to assist recovery efforts after a devastating earthquake in 2010.
"This team is one of the best teams that I have ever been a part of in my entire life," said Lt. Col. Timothy Cleighton, commander of the 1-244th. "It's amazing what we've done and what we will do when we don't quit, and we never quit.
"On behalf of a grateful nation, a grateful state and a grateful free people … we wish you Godspeed,"said Louisiana Senator John Kennedy.
The LANG aviation unit routinely provides sling load and rappelling support to the Joint Readiness Training Center at Fort Polk for training during air Assault courses. The 1-244th also works with the Louisiana Department of Wildlife and Fisheries during the annual Christmas tree drop to help combat Louisiana coastal erosion.