Local community gives Guard unit big send-off
By Sgt. Noshoba Davis, Louisiana National Guard Public Affairs Office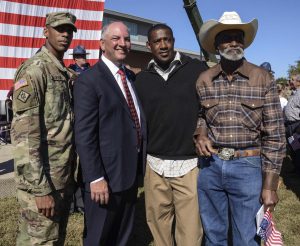 PINEVILLE, La. – Nearly 1,000 friends, families and community members gathered to bid farewell to the Louisiana National Guard's 1020th Engineer Company, 527th Engineer Battalion, 225th Engineer Brigade, during a deployment ceremony at Avoyelles Public Charter School in Mansura, Oct. 18.
More than 150 Soldiers with the Marksville-based unit departed for a one-year deployment to Kuwait and other locations in the region. The engineers will provide vertical construction operations to improve forward operating base conditions in support of Operation Spartan Shield.
In a show of support to the deploying Guardsmen students from APCS attended the ceremony.
"So many of our Soldiers grew up here, live here and work here. It made it heartwarming to see the tremendous crowd of people, who took the time out of their day to show us love and support," said Capt. Clint Gleason, a Haughton native and commander of the 1020th. "It just goes to show how important and special the relationships between the 1020th and the Marksville and Avoyelles Parish communities are."
Louisiana Governor John Bel Edwards, guest speaker for the ceremony, said Louisiana has the best National Guard in the United States.
"As a fellow Louisianan and governor of our great state, I cannot be more confident of the success that you're going to have in your mission because you're dedicated and you're ready," said Edwards. "I'm proud of everything the National Guard does, and I'm certainly proud of the men and women who are so dedicated to this unit.
"Thank you for your service and thank you for your sacrifice," he continued. "God bless you until we meet again."
Maj. Gen. Glenn H. Curtis, adjutant general of the LANG, addressed the Soldiers and their families during the ceremony.
"I want to thank you for your willingness to serve our organization," said Curtis. "Thank you for what you do, and when you're downrange remember to take care of each other and always communicate with your families back home."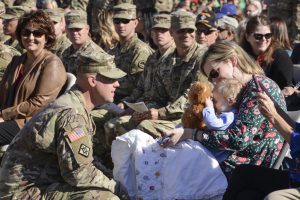 Gleason said his unit spent the last year preparing for this deployment.
"I'm extremely proud of all the hard work and dedication each of you have displayed as we've prepared ourselves for this deployment," said Gleason. "It has truly been an honor to watch the 1020th grow into the unit we've become. I have no doubt that we will be able to complete any mission that's assigned to us."
For Pvt. Brendan Fehmie, a Bunkie native, this is his first deployment. Fehmie completed initial entry training and returned home just three days prior to the ceremony.
"It's hard to leave my family, especially after only seeing them for the last few days, but I'm really excited to go and earn this experience," said Fehmie.
Sgt. Walter Prudnikow, a Marksville resident and an electrician with the unit, is deploying for the second time. He said that he is ready and looking forward to the deployment.
"We have a really good, motivated group of troops. I think we're ready and it's going to be a good time," said Prudnikow.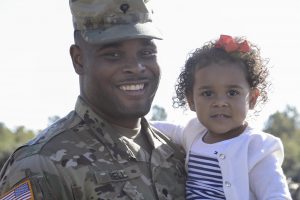 The Guardsmen will conduct mobilization training at Fort Bliss, Texas, before deploying overseas.
In 1990, the unit deployed to Kuwait in support of Operations Desert Storm and Desert Shield. The 1020th was activated during Hurricanes Katrina, Rita, Gustav, Ike and Isaac, as well as the Deepwater Horizon Oil Spill in 2010.
Over the years, the 1020th has conducted multiple overseas deployment training projects, such as building schools and health clinics in multiple countries to include Germany, Belize, Haiti and Honduras.