Louisiana National Guardsman gives gift of life
By Capt. Larissa Lambert, 159th Fighter Wing Public Affairs Office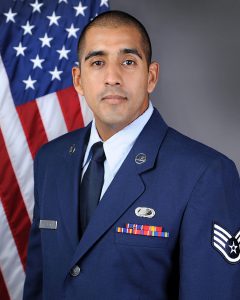 BELLE CHASSE, La. — Louisiana Air National Guardsmen Staff Sgt. Franciscoadan Orellana, a Gretna resident assigned to the 159th Mission Support Group, donated his kidney to his sister, Alejandra Orellana, April 11.
Alejandra's health issues began 10 years ago when she was pregnant with her son. She suffered from eclampsia, high blood pressure and gestational diabetes which caused her son to be born premature at 31 weeks.
Although her son was healthy, the doctors said her veins had collapsed and her organs were shutting down. During the following years she experienced further complications including being diagnosed with stage four chronic kidney disease.
"The whole family was there for me, but mainly my brother took the role of 'what do you need or what can I do for you," Alejandra Orellana said.  "He was really wonderful."
Not wanting to continue with hemodialysis because of the stress on veins in her neck and chest, her doctor recommended peritoneal dialysis which uses the lining of the stomach as a natural filter. Ultimately, her kidney disease progressed and her case was presented to the kidney transplant board.
In November 2016, after numerous tests and reviews of her medical history, Alejandra Orellana's case was accepted and she was placed on a transplant waiting list.  That's when Franciscoadan took action and informed his family that he would donate one of his kidneys.
"I still remember telling my family the good news, and my sister responding, 'no, I couldn't live with myself if something were to happen to you,'" said Franciscoadan Orellana.  "That's when I told them I wasn't asking them for permission and immediately started the process of testing to see if we were a match."
Out of five siblings, Franciscoadan and Alejandra are particularly close. Franciscoadan describes his sister as the backbone of the family, a confidant who is very supportive of his career in the military.
Franciscoadan was determined to donate a kidney to his sister, regardless of personal health risks or career consequences.  Knowing that a health issue could potentially have an effect on his military career, he met with his commander and the 159th Medical Group for advice.
"When Staff Sgt. Orellana first told me about his desire to determine his compatibility I was not surprised he was contemplating this," said Col. Brian Callahan, commander of the 159th Mission Support Group. "When he sees a need, he automatically goes into a "fix it" mode."
Over the next few months, Franciscoadan underwent a series of tests and interviews. He had 20-30 vials of blood drawn, X-rays, CAT scans and MRIs to ensure he was a match and was healthy enough to donate.  He also had to meet with social workers, psychologists, financial advisors and the transplant team to make certain he wasn't being coerced and to assure he was acting of his own free will.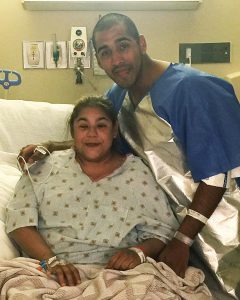 "The fact that it was his sister only increased his desire to find a successful outcome. He went through all of the testing and when it was determined he was a match, there was no turning back," said Callahan. "He went through all of the proper steps to determine if this would impact his military service and, upon hearing there wouldn't be, he went full speed ahead to help his sister. He attacks his work with that exact fervor."
Franciscoadan Orellana credits his military training and mindset that allowed him to act swiftly and expedite the screening process.
"Warrior ethos came into play. This is a mission," said Franciscoadan Orellana.  "It's a confidence, being in the military. There's a warrior mind frame and sometimes you don't get a chance to the think; you just execute."
The seven-hour surgery was successful and brother and sister were on the road to recovery.  Overcoming this challenge has strengthened their relationship and allowed them to grow even closer.
"Our relationship is stronger than ever, just like my family's relationship is stronger than ever," Franciscoadan Orellana said.  "It's humbling to know that you have that support always."
Alejandra Orellana's new kidney took effect immediately.  She has lost weight in fluid retention and is hoping to soon reach an ideal weight to be eligible for a pancreas transplant as she continues her battle with diabetes.
Today, Alejandra Orellana looks to the future as an advocate for organ donations.  She plans to speak at schools, businesses and fund raisers to educate people about the screening process and motivate them to act.
As for Franciscoadan Orellana, he wants people to understand that donating a kidney was a privilege and an honor.  He has a healthy life, and continues to serve his country and be an active community volunteer with one kidney.  He is scheduled to deploy next year once he is fully recovered.
"I have noticed that life will put you in situations where all you can do is act.  It is at those times when you must stop thinking and simply execute," Franciscoadan Orellana said.  "I truly feel God gave me two healthy kidneys knowing that when the time came, I would have the ability to give one up."