National Guard unit returns to Louisiana from Iraq
By Sgt. Noshoba Davis and Sgt. Garrett Dipuma, Louisiana National Guard Public Affairs Office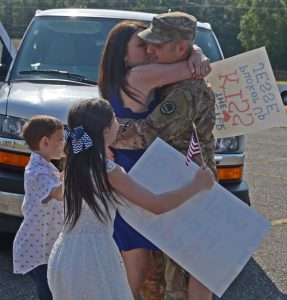 PINEVILLE, La. – Family, friends, and fellow Guardsmen in the Louisiana National Guard welcomed home over a combined 80 Troops of the 139th Regional Support Group at Jackson Barracks in New Orleans and Camp Beauregard in Pineville, Aug. 22.
The Guardsmen were deployed to Taji Military Complex, Al Assad Air Base and Erbil Air Base in Iraq for nine months to provide base sustainment operations in support of Operation Inherent Resolve. These duties included security, logistics and garrison command.
"I'm filled with so much excitement now that he's home," Bailey Danton, daughter of Master Sgt. Bernard Danton, of Covington, said while holding back tears. "We're just so glad to have him back."
The Guardsmen who returned to Jackson Barracks were first greeted by Maj. Gen. Glenn H. Curtis, adjutant general of the LANG, and Command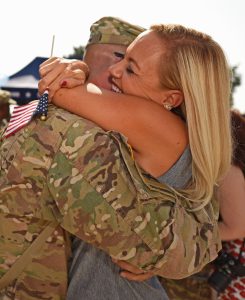 Sgt. Maj. Clifford Ockman, Army command sergeant major of the LANG, before searching for their loved ones in the sea of people welcoming them home.
Members of the 773rd Military Police Company, 139th RSG, who returned to Camp Beauregard, were first welcomed by Brig. Gen. John B. Dunlap III, the LANG's assistant adjutant general – Army, and Command Sgt. Maj. Robert Stiefvater, state command sergeant major, before returning to their loved ones.
"It's always great when our Guardsmen make it home safe and sound back to their families," said Curtis. "I appreciate what they do, and I'm glad that they can get back into their lives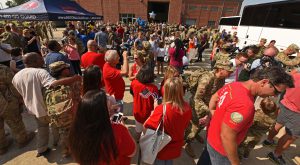 again."
The Guardsmen returned to Fort Hood for demobilization training for approximately one week before taking a roughly nine-hour long bus ride home.
"Last time I deployed, we had a little girl, and now we have three kids," said Staff Sgt. Timothy Mcglothlin, who was assistant operations NCO at Erbil. "It's a big difference coming back to older kids after leaving when our youngest was six months old and now he's running around. It's a lot to take in."
"I still have butterflies now that he's here," said Raquel, Mcglothlin's wife. The couple said that they were going to drop their youngest off for a nap then surprise their other two children at school.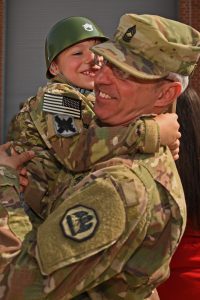 The 139th, organized in 2006, was originally headquartered at Camp Beauregard in Pineville and relocated to Jackson Barracks in 2010.
The unit saw its first major state activations following Hurricanes Gustav and Ike in 2008, where they were charged with managing commodity distribution efforts as Task Force Wrangler. The 139th also provided support with disaster food stamp distribution operations, search and rescue, transportation, security and parish liaison missions.
The 139th was also activated during the Deepwater Horizon Oil Spill in 2010, Hurricane Isaac and the major floods of 2016. In 2017, the 139th was activated once again to provide assistance and support for Hurricanes Harvey and Maria.