Marksville National Guard unit returns from overseas
By Spc. Anna Churco, 241st Mobile Public Affairs Detachment
BATON ROUGE– More than 150 Soldiers with the Louisiana National Guard's 1020th Engineer Company, 527th Engineer Battalion, 225th Engineer Brigade returned home after a nine-month deployment at Million Air Alexandria in Alexandria, Sept. 1.
The Marksville-based unit was deployed to Kuwait, Iraq and Afghanistan to provide vertical construction operations to improve forward operating base conditions in support of Operations Spartan Shield, Freedom's Sentinel and Inherent Resolve.
Brig. Gen. Lee Hopkins, director of the joint staff of the LANG, greeted and thanked the Troops as they exited the plane.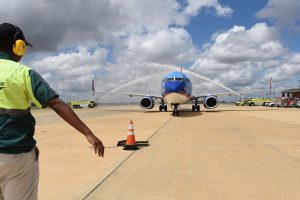 "Today is about family," said Hopkins. "The Soldiers sacrificed overseas, but the families have sacrificed just as much here at home, so we're ready to welcome them home and get them reunited."
Friends and family members waited anxiously in the airport terminal for the arrival of their Guardsman.
"I'm so excited just to see him," said Brianna Leblanc, wife of Spc. Calvin Leblanc, of Hammond, while waiting for her husband's plane to land. "He has only met his son for a week, and I'm just excited for us to all spend some time together as a family."
After hitting the tarmac, Spc. Leblanc said he was overcome with emotion upon seeing his wife and two sons, one of which is only two months old.
"This all feels surreal, it hasn't even hit me yet," said Leblanc while holding his youngest. "I really just want to go out to eat with my family, and I really want some good seafood."
Some of the unit's highlights while deployed include: completing 35 projects exceeding $15 million in construction costs, Security Force Assistance Brigade uplift projects, two construction projects for Northern Special Operations Command Central in Northern Afghanistan, providing a 15-man team for base maintenance and improvements to support Special Operations Command Central in multiple locations in Iraq, and being awarded the Meritorious Unit Citation.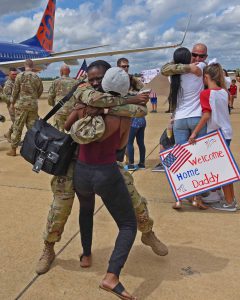 Capt. Clint Gleason, commander of the 1020th while deployed, was proud of the work his troops had done overseas and relieved to get them all home.
"We worked hard overseas, and as a commander it is great to get them all home and see them be reunited with loved ones," said Gleason.
The 1020th deployed to Kuwait once before during Operations Desert Storm and Desert Shield and have also been activated for domestic operations such as the Deepwater Horizon Oil Spill and Hurricanes Katrina, Rita, Gustav, Ike and Isaac.
Over the years, the 1020th has conducted multiple overseas deployment training projects, where they built facilities including schools and health clinics in multiple countries to include Germany, Belize, Haiti and Honduras.
"Coming home from these deployments is extremely honorable," said Lt. Col. John St. Romain, commander of the 527th. "As a commander I have such a sense of accomplishment because I know that they have done a great job overseas, and I hope we can honor them properly as they come home."