New Orleans Guard unit trains for deployment to Iraq
By Staff Sgt. Scott D. Longstreet, 139th RSG Public Affairs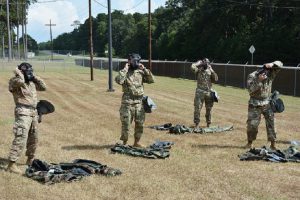 PINEVILLE, La. – The Louisiana National Guard's Headquarters and Headquarters Detachment, 139th Regional Support Group, completed a three-week pre-mobilization annual training at Camp Beauregard in Pineville, Oct. 2-22.
The training allowed the approximately 80 Soldiers to fine tune their skills and complete required training before heading to Fort Hood, Texas, prior to deploying to Iraq for nine months.
The 139th's primary mission will be to provide security, logistics and garrison command in support of Operation Inherent Resolve.
"What we are doing here is critical," said Col. Stuart N. Burruss, 139th commander. "Many of these tasks are basic warrior tasks each and every Soldier needs to know in order to survive on the battlefield. When we are in a foreign or austere environment, it's crucial to have an understanding of the basics."
The 139th Soldiers participated in refresher courses to brush up on their basic warrior tasks including combat lifesaver, hand-grenades and weapons qualification.
"It felt amazing getting the chance to throw the grenades," said Spc. Danielle N. King, from Slidell. "Although it is important for me to be training in my military occupation, it is also important to actively practice my skills as a Soldier. You are always a soldier first."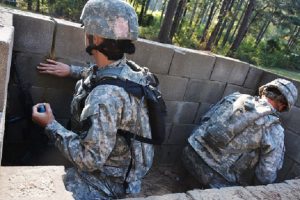 Weapons qualification consisted of shooting pop-up targets at varying distances up to 300 meters.
Command Sgt. Major Sud Robertson, the 139th senior enlisted advisor, spoke of the importance of weapons training.
"We normally qualify on these weapons once a year," said Robertson. "Getting the individuals to know their weapons and know the fundamentals of operating them is very advantageous to us prior to going downrange."
Toward the end of their AT, Soldiers worked on team movement training exercises during land navigation and the obstacle course.
Spc. Keiara Williams, of Baton Rouge, said she was challenged by the obstacle course, but learned some key training points from completing it.
"The focus was to work as a team to move from point-to-point and around the obstacles," said Williams. "We practiced moving as a team, using hand signals and verbal communication."
The 139th, organized in 2006, was originally headquartered at Camp Beauregard in Pineville but relocated to Jackson Barracks in New Orleans in 2010. The 139th is a multi-functional organization consisting of transportation, maintenance, communications, medical, military band, military police and military intelligence units.  It currently has approximately 2,200 personnel across the state.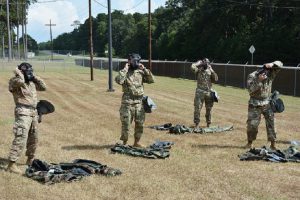 The unit saw its first major state activations following Hurricanes Gustav and Ike in 2008, where they were charged with managing commodity distribution efforts as Task Force Wrangler. The 139th also provided support with disaster food stamp distribution operations, search and rescue, transportation, security and parish liaison missions.
The 139th was also activated during the Deepwater Horizon Oil Spill in 2010, Hurricane Isaac and the major floods of 2016. In 2017, the 139th was activated once again to provide assistance and support for Hurricanes Harvey and Maria.