La. Air Guard participates in Disaster Response Exercise
By Capt. Peter Drasutis, Louisiana National Guard Public Affairs Office
NEW ORLEANS – Louisiana Air National Guardsmen from the 159th Fighter Wing, based at Naval Air Station Joint Reserve Base New Orleans, partnered with Plaquemines Parish agencies to test and strengthen a combined response between the groups as part of an annual statewide Disaster Response Exercise, April 17-22.
This exercise, organized and coordinated by the Louisiana National Guard and the Governor's Office of Homeland Security and Emergency Preparedness, involved coordinated training missions in multiple strategically located staging areas across southern Louisiana.
"The Air Guard has area responsibility for Plaquemines Parish and St. Bernard Parish," said Brig. Gen. Sean Conroy, chief of staff of the Louisiana Air National Guard. "Each year we do a disaster response exercise, we get with our local counterparts in Plaquemines Parish and St. Bernard Parish. That includes everybody from the sheriff's department, local government, local school board and then any other social services or private partnerships that may come in to support. It's an exercise to ensure that we can do it and to assure the locals that we're ready."
Given NAS JRB's location in Belle Chasse, Plaquemines Parish's largest community, the 159th Fighter Wing is poised to rapidly deploy into the surrounding community and augment local organizations' effectiveness through logistical and physical support.
"We have a great working relationship between parish entities, state governance and Federal organizations. Each time we do these exercises, we've gotten better. There's a lot of planning that goes into these events, and it's worked out," said Patrick Harvey, director of the Plaquemines Parish Homeland Security and Emergency Preparedness.
Responding to injects provided by trained personnel operating in mobile Emergency Operations Centers, LANG Airmen simulated high water search and rescue in conjunction with members of the Cajun Navy.
Crews from the 159th Fighter Wing also rehearsed Point of Distribution site operations at the Plaquemines Parish Government Complex, where parish workers acted as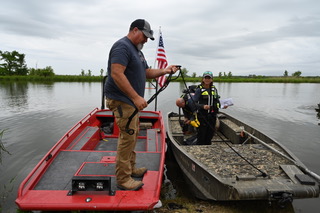 supply recipients and Plaquemines Parish Sheriff's Deputies provided security.
"There is a big improvement on what the Governor and the Adjutant General (of Louisiana) have asked us to do," Senior Master Sgt. Jody Fisher, POD manager for the 159th Fighter Wing. "The Air Guard is more involved in domestic operations than we've ever been. This training is an opportunity for our airmen to understand that we have a state mission as well as a federal mission."
Representatives from various service organizations were onsite to address the Airmen's needs just like they would be in a real emergency response. "Because we're the Guard and live in the community, we encounter the same challenges as our citizens in relation to a storm," explained Mike Miller, director of psychological health. "But our members have chosen to serve the public first, so we're the arm that tries to take care of our service members."