La. Air Guard participates in unique combat training in Idaho
By Senior Airman Dane St. Pe, 159th Fighter Wing Public Affairs Office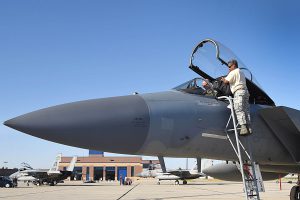 BOISE, Idaho – The Louisiana National Guard's 159th Fighter Wing is participating in dissimilar air combat training with the Idaho National Guard's 124th Fighter Wing at Gowen Field Air National Guard base in Boise, Idaho, July 13-27.
DACT provides combat aircrews with a realistic environment to hone their fighter tactical skills and exposes pilots to the flight profiles and airframes of different combat aircraft. This type of air combat training was introduced in 1968 after disappointing aerial combat exchange rates during the Vietnam War. U.S. aerial combat win/loss ratios soared following the implementation of DACT when aerial combat resumed in 1972 over North Vietnam.
The unique terrain of the Mountain Home Range Complex allowed the 159 FW to execute combat scenarios such as flying at supersonic speeds over land, deploying low-level flying tactics, live ordinance firing and surface-to-air missile simulation.
"There are not many places that we can do air-to-ground training. Idaho is one of them," said Lt. Col. John Hensz, project officer for the 159th. "Doing things back home will keep us good at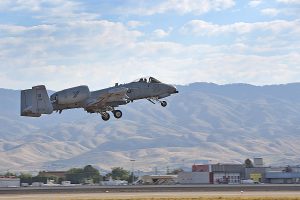 specific scenarios, but being here allows us to put our guys in situations that they might have to go through down range that we can't practice back home."
In addition to sharing their facilities, the 124th also partnered their A-10 Thunderbolt II aircraft with the Louisiana's F-15C aircraft for air combat training.
"It's good that we're working with the 124th because they specifically have a mission and an aircraft we don't normally work with," said Hensz. "I think it's good to get some of our guys out of their comfort zone and put in a high-stress situation so they become flexible to anything that could come their way."
The 159th and 124th jointly performed training scenarios involving the protection of A-10s from enemy F-15Cs while providing close-air-support to the ground troops below. The 159th also performed air combat maneuvering with the F-15Cs by executing strafing runs to combat ground level threats.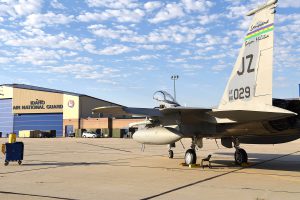 "It's a Guard unit working with another Guard unit, so we both understand the limitations and strengths that the Guard offers and can maximize our work together," said Hensz. "Our hosts here at the 124th have been outstanding to us and we appreciate all the support we've been getting from them. This has been amazing training for our pilots and our aircraft maintainers."