La. Guard medics receive tactical combat medical training
By Sgt. Noshoba Davis, Louisiana National Guard Public Affairs Office
PINEVILLE, La. – Ten medics with the Louisiana National Guard participated in the Army's Tactical Combat Casualty Care training at Camp Beauregard in Pineville, Dec. 1-2.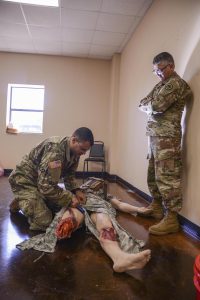 The training is a 16-hour, two-day course created by the U.S. Department of Defense Committee on TC3 to teach medics life-saving techniques and strategies in order to provide the best trauma care to Soldiers on the battlefield.
"The course incorporates the Committee of Tactical Combat Casualty Care's (CO-TCCC) latest guidelines," said Sgt. 1st Class Howard Bushey, the 68W [combat medic specialist] program director for the LANG. "The CO-TCC update their guidelines every year. They evaluate things from the battlefield, so if something isn't working they change it."
Bushey explained that TC3 was originally introduced to special operation groups in the military in 1996, and then implemented throughout the Army in 2005 after the success it showed in special operations.
"We currently have the highest survivability rate in the history of casualties on the battlefield," said Bushey. "It all comes down to having better body armor, faster medical evacuation times and TC3."
During the two-day course medics review how to conduct care under fire, treat massive hemorrhages, clear airways that have been obstructed, conduct fluid resuscitation, document the care of a patient and more.
"Training like this helps combat medics, like myself, because you're always going to go back to the last training you received when in a stressful situation," said Sgt. Andrew Blaize, a Lafayette native and medic with Headquarters and Headquarters Company, 2nd Battalion, 156th Infantry Regiment, 256th Infantry Brigade Combat Team. "Staying updated on our training and the changes made in the medical world makes us a little quicker with better reaction times and gives our patients a better chance at survival … which is our main job."
The TC3 training allows medics to learn about updates to equipment or new equipment that's designed to make a medic's job easier when treating a patient.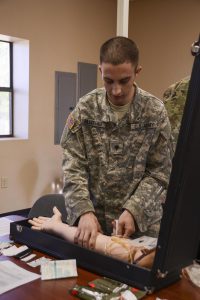 "Some of the equipment is completely updated and makes our job easier," said Blaize. "The I-gel, for example, goes into the airway and is anatomically more correct. The one that really gets me is the XStat Syringe. It injects little cubes into the wound and when it touches the blood expands and basically packs the wound for you, which beats having to un-roll a bandage and shove that into the wound."
The LANG has had 100 percent sustainment for medics since 2010 and has one of the top training programs in the country.