Louisiana Air National Guard provides command coordination to first responders
By Airman 1st Class Dane St. Pe, 159th Fighter Wing Public Affairs Office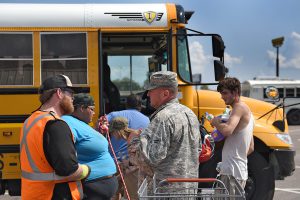 VIDOR, Texas – The Louisiana Air National Guard provided coordination and communication support for military units, law enforcement, volunteer search and rescue teams and other first responders during the flood evacuation efforts in the wake of Hurricane Harvey in Vidor, Texas, Sept 1.
Airmen from the 159th Fighter Wing, managed their state-of-the-art Mobile Emergency Operations Center from a powerless supermarket parking lot within a few miles of severely flooded areas. The MEOC is a self-contained platform designed to provide command and control for incident commanders and to assist local agencies with emergency response.
"This quickly became a unified command," said Senior Master Sgt. Rosalie Huff, a Slidell native with the 159th Civil Engineering Squadron. "When we arrived here, there was a police officer and a firefighter that were running the command, they needed a lot of resources and help."
The MEOC has an abundance of communications equipment to aid first responders during relief efforts. The center has satellite phones, internet server capabilities and radio systems to communicate with helicopters for emergency medical pick-ups.
"It has been extremely helpful by giving us the ability to print maps to send out to the volunteer forces on search and rescue missions," said Huff. "We've had members here utilizing our radio systems to communicate back and forth to the helicopters to find critical patients for evacuation.
Huff said, the MEOC was established as the incident command center for this site, which is being used to coordinate the rescues, evacuations and manage the supplies and commodities received on site.
With a team of Airmen manning the MEOC, they also assisted in various capacities towards the relief effort.
"Last night I drove a bus with medical personnel to assist with 22 medical necessities we needed to bring in," said Airman 1st Class James Cockrell, a Bogalusa native with the 159th Communications Squadron.  "We had one infant that needed breathing treatments and the rest were mostly elderly senior citizens who needed a lot of medical attention."
Louisiana's Guardsmen are trained, ready and equipped to stand up at any moment to protect lives and property, maintain communications, and ensure the continuity of operations and government.