159th Fighter Wing conducts Change of Command for Medical Group
By Senior Airman Dane St. Pe, 159th Fighter Wing Public Affairs
BELLE CHASSE, La. – Lt. Col. Timothy Vignes assumed command of the 159th Medical Group from Lt. Col. Joseph Danford in a formal ceremony held at Naval Air Station Joint Reserve Base New Orleans, Feb 9.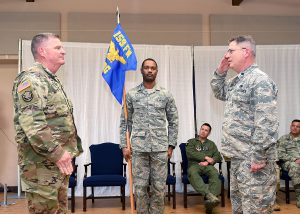 Vignes served as commander of the 159th Logistics Readiness Squadron from 2009 to 2010. He has also served as the Medical Plans and Operations Officer since 2011. While mobilized, he held several key positions including the Officer in Charge of the Emergency Support Function 16 and the Liaison Officer for Plaquemines Parish during the Deep Water Horizon Oil Spill response.
"When we first set up the [Chemical, Biological, Radiological, Nuclear and high yield Explosives Enhanced Response Force Package], we had to keep our medical group functional, keep our Air Guard functional and deployable medically," said Maj. Gen. Glenn H. Curtis, adjutant general of the Louisiana National Guard. "[Lt. Col Danford and Lt. Col. Vignes] were two integral parts of trying to figure out that piece. They did a wonderful job managing us and managing this organization through it."
On top of his over 30 years of dedication to the LAANG, Vignes brings a wealth of knowledge to his new position. He holds an associate degree in personnel administration and business administration. He graduated Cum Laude from Southeastern Louisiana University with a Bachelor of Science degree in management and is currently enrolled at the Air War College.
"Rarely does an officer have a chance to stand up a team from scratch, and I was fortunate to get that opportunity," said Vignes. "We are the best in the nation.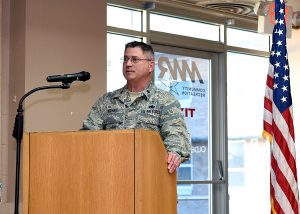 We have the finest team and the most talented doctors and medics. I know we will continue to be the best CERFP unit."
The 159 MDG supports the 159th Fighter Wing wherever the mission takes them. They regularly provide assistance to the Guam National Guard by supplementing their manpower to improve medical readiness. They managed the safety of the LAANG during temporary duty in Idaho and assisted a civilian hospital in the setup of medical translation technology.
"We've done a lot of great things," Vignes said. "There is plenty of work to be done still. I'm excited about the new opportunities ahead of us to grow our missions. We have a few senior chiefs and senior doctors, but for the most part we are a young group. I look forward to what the future brings. It's an honor to sit in the command seat."
The 159 MDG has ranked number one out of 22 medical groups in medical readiness and the CERFP team continues to be one of the top medical groups in individual medical readiness in the ANG.
"Success can be defined in many different ways," said Danford. "To me, success is defined in just one word – execution. Can you do the job when you're called upon to do it? I leave the med group knowing that you can."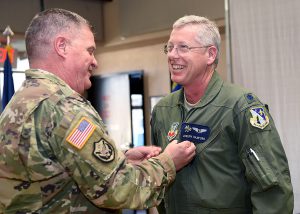 Danford is now assigned to Joint Force Headquarters at Jackson Barracks as the State Air Surgeon acting as the primary liaison between the 159 MDG, the Adjutant General and the Air National Guard Chief Surgeon on force protection medical issues, aspects of homeland security and other medical matters.