La. Guard medics hone skills during sustainment course
Medics given opportunity to participate in cadaver lab
By Staff Sgt. Noshoba Davis, Louisiana National Guard Public Affairs Office
PINEVILLE, La. – The Louisiana National Guard's (LANG) combat medic sustainment program (CMSP) recently conducted a 10-day course for combat medics at Camp Beauregard in Pineville, Louisiana, Jan. 19-29.
A total of 16 medics, including two medics from the Arkansas Army National Guard, participated in the course to renew their National Registry of Emergency Medical Technicians (NREMT) and CPR certifications, which are required to be renewed every two years.
"The purpose of our sustainment course is to keep all combat medics that have returned from advanced individual training current on all of their required civilian and military certifications," said Sgt. Kennedy Chapman, combat medic sustainment program manager. "Medics are required every two years to renew these certifications during a 72-hour sustainment class. During the first 24-hours we get to kind of pick and choose what we teach, and we like to use that time to cover the NREMT course work which crosswalks into the civilian sector."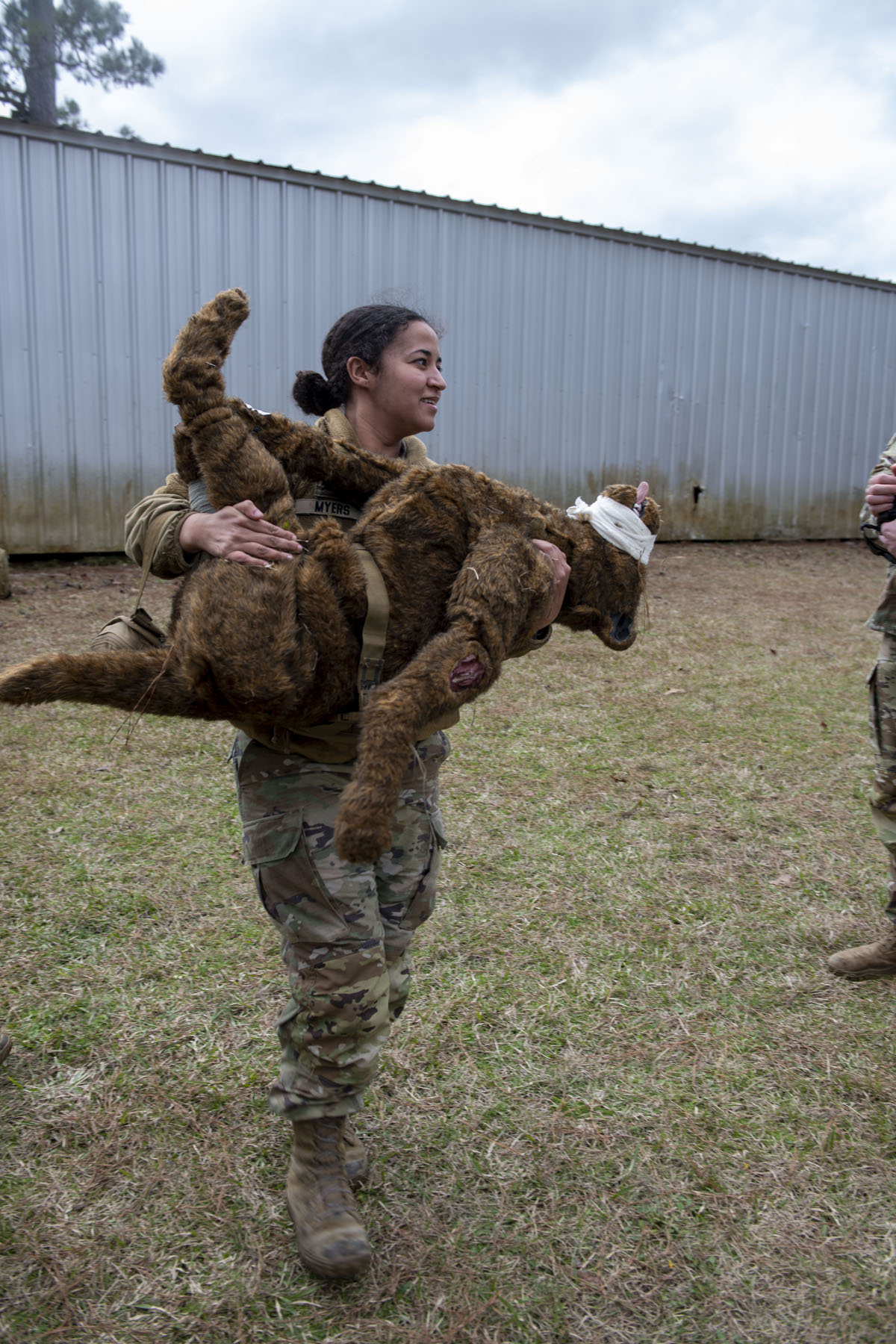 In addition to managing battlefield trauma, treating heat and cold injuries, starting IVs, administering medications and K-9 Tactical Combat Casualty Care, the medics had the opportunity to participate in a cadaver lab, which was coordinated through the LANG State Surgeon's Office, Teleflex Medical Equipment and the Medical Education & Research Institute.
"It's hard to simulate battle and it's hard to simulate healthcare, and so you do the best you can. We have some great training and lots of simulation mannequins and they're good, but the closer you get to real life the better," said Lt. Col. Chris Trevino, LANG CMSP medical director. "Cadaver labs are great because they are as close to real life without it actually being a person who is alive, and you can get a very good feel for the real anatomy and the challenges of treating a human body."
During the lab, medics were able to use the same equipment they use on missions and learn how human tissue feels when conducting medical procedures. Practicing these procedures allowed medics to build confidence in their abilities and equipment.
"At first it was a little unnatural just because I've never done anything like that before," said Spc. Jared Collins, a medic with 1st Assault Helicopter Battalion, 244th Aviation Regiment. "Everything we got to practice was easier on human tissue than a mannequin and seeing how it was supposed to look and feel was really helpful."
Other medics said going through the training and working on the cadaveric tissue was humbling and reminded them of the humanity in the medical world.
"It's amazing that these people are willing to do that. I can only imagine what type of person they were; I imagine they were helpful people," said Sgt. Raven Myers, the medical readiness noncommissioned officer with Headquarters and Headquarters Company, 2nd Battalion, 156th Regiment, 256th Infantry Brigade Combat Team. "As a medic, you always want to help somebody and the fact that these people made the sacrifice to advance our training is humbling, commendable and remarkable."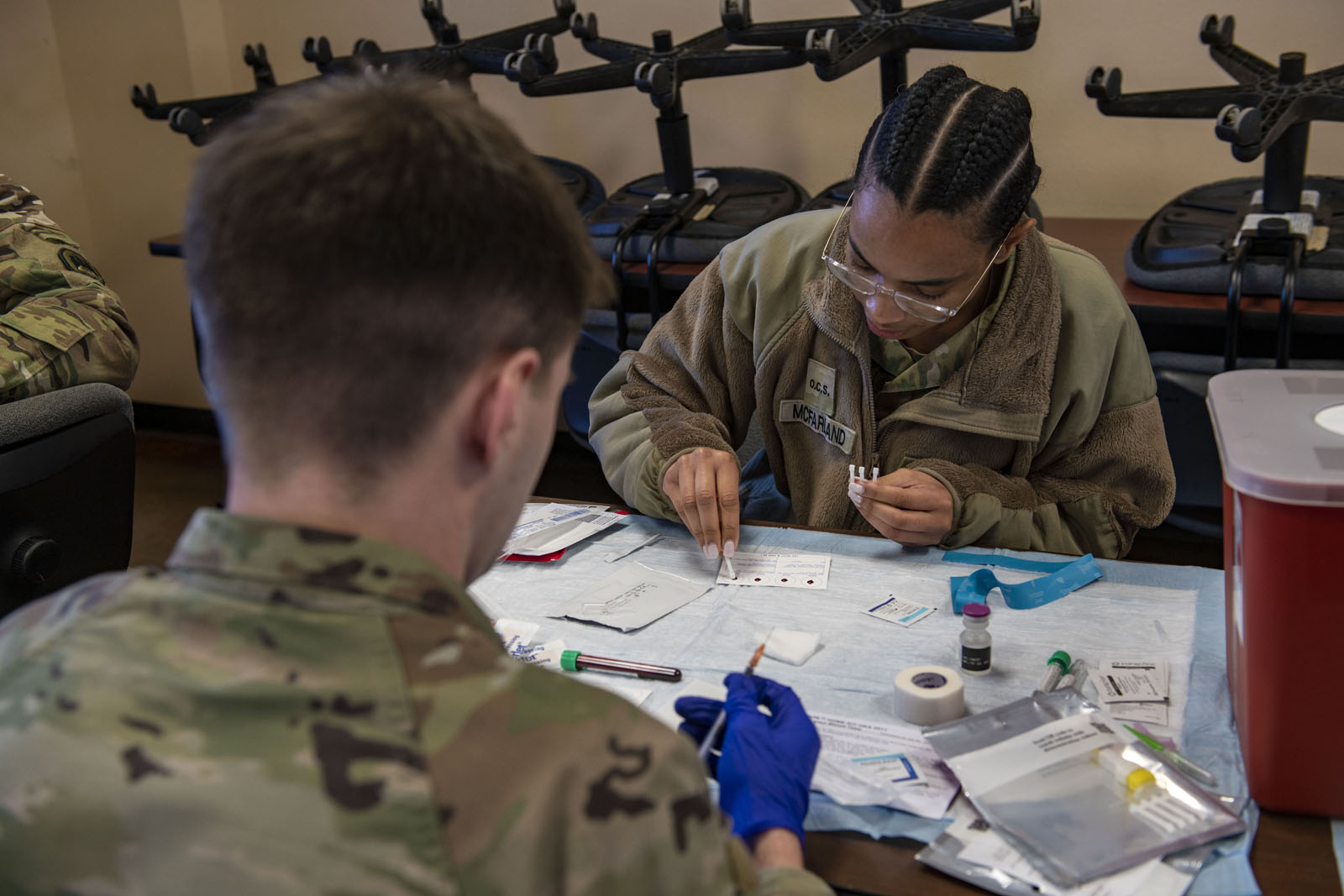 Once all classroom hours were completed, medical and trauma lanes are conducted to evaluate the medics. While conducting the lanes, medics were evaluated on their execution of the combat casualty assessment and medical assessment of a patient.
"I really enjoyed the cadaver lab. It was most beneficial for me, and it was something I've never gotten to do before," said Arkansas Army National Guard's Staff Sgt. Haley Harrison, a medic with Headquarters and Headquarters Company, 39th Infantry Brigade Combat Team. "I also enjoyed that they focused on the medical lanes for the first couple of days. Everyone needs to keep up their EMT type skills."
Chapman stated that currently, the LANG's combat medic sustainment course is one of the top training programs in the country. She also explained that within in the last year they added a paramedic/flight medic only class to the training circulation and that they intend to hold the Delayed Evacuation Casualty Management Course for the first time this fiscal year.